The Marshall McLuhan Salon
"The multimedia information centre of the Embassy of Canada in Berlin was named after the famous Canadian media philosopher Herbert Marshall McLuhan (1911 – 1980). It presents Canada using state-of-the-art technical equipment.
Visitors can interactively discover the rich and diverse culture of the country, its unique landscapes, its cutting-edge technologies and values. Different presentation units support the visitor's research on Canada. They provide access to a unique data base containing hundreds of films, pictures and audio clips as well as over 1000 texts on Canadian topics, for visitors interested in Canada. The Marshall McLuhan Salon is open to the general public, participants in guided tours and guests of the Embassy."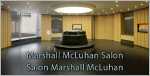 Marschall McLuhanSalon

- Statistics Canada
An audiovisual and multimedia presentation of the population development in Canada
www.statisticscanada/english/census/Multimedia.

- Useful sites about Canada
The "Zentrum für Kanadastudien" at the University of Innsbruck offers a well structured list of links to a multitude of sites concerned with Canadiana.
University of Innsbruck

- Canadian Information by Subject
This site introduces itself as follows: "Canadian Information By Subject is an information service developed by the Library and Archives Canada to provide links to information about Canada from Internet resources around the world. The subject arrangement is in the form of a "Subject Tree", based on the structure of the Dewey Decimal Classification system. This service is updated regularly and is constantly developing and expanding. Be sure to check back often to see the latest additions".
Canadian information by subject

- Canada Journal
This journal is an online directory for travel and business in Canada put together by experts living in Canada., published in German.
Canada Journal

- Test your knowledge about Canada
Here you can choose from a number of interactive quizzes from the Canadian Encyclopedia that deal with all kinds of Canadiana.
Canucklehead Quizz

The Canadian Museum of Civilization
This is Canada's largest and most popular cultural institution, providing background information on civilizations, cultures, history, First Nations etc., offers resources for educators, informs about exhibitions, plus virtual tours.
Museum of Civilization

- Well-known Canadians
This site is a collection of links to artists, authors, comedians, businessmen, directors, musicians, scientists etc.
Well-known Canadians

- One World - Nations Online
This site is described as follows: "Destination Canada, this page is about many aspects of Canada. Here you will find comprehensive information about Canada in its diversity: geography, economy, science, people, culture, environment, government and history. You will have access to newspapers from Canada and you will find extensive travel and tourism information for Canada and the Canadian Provinces and Territories."
Canada